So where did the weekend go?
On Saturday I called into our local hospice charity shop with some items I had de-cluttered and was leaving when I spotted a cute white wooden photo box which I just couldn't leave behind. I am thinking that instead of photos I may use it to store small charts like Lizzie Kate snippets. I also found a nice frame for the photo we bought last week of my GD's dance class.
Sunday was a lovely day with my parents, brother and sister in law coming over for a traditional Sunday roast lunch - roast beef, Yorkshire puddings, roast potatoes, 5 different veg and 4 different puddings. All washed down with lots of chat and "putting the world to rights". So not much time for stitching.
I did manage some more work on my Jane Austen piece - I only have 2 sides of the border to do and it's finished. I have loved stitching this piece as it combines 2 of my passions - stitching and reading. I have in mind that I would like to stitch some other Jane Austen themed pieces and then make them into a quilt. Just an idea at the moment.... I do have some other patterns including some I bought from an Etsy store called WestWindCrossStitch. I think this may be the next one I stitch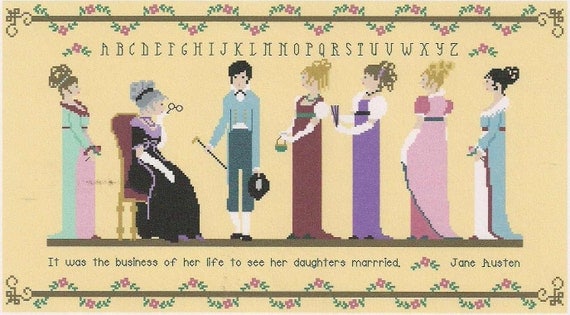 The Business of Her Life
Designer: WestWindCrossStitch